A practical guide to modernizing your eCommerce platform
If you are a digital commerce professional at a retailer who wants to take their commerce to the next level, you're in the right place. Digital developments are accelerating. The playing field shifted to the mobile channel, social commerce, and voice commerce popped up – and the amount of content is still growing exponentially to this day. Central to these developments is the customer experience. Is it exceptional? If not, then there is always another provider with a better offer. Nowhere is this more true than in eCommerce.
In order to keep up with the customer demands of today and tomorrow you need the digital agility to offer the customer experiences that customers expect. Older, monolithic commerce platforms often lack this digital agility, since they are built using legacy technology principles that cannot leverage the benefits of a trustworthy cloud-native commerce platform that allows for faster development, better scalability, higher flexibility and quicker release cycles.
A modern approach is needed that gives retailers complete control over how customers interact with their brand. This requires a modular platform that allows them to build the very best experience with exactly the right building blocks. For this, they need a cloud-native and an API-first approach that offers speed and flexibility. Your architecture will have to become agile to serve your customer in the most effective way.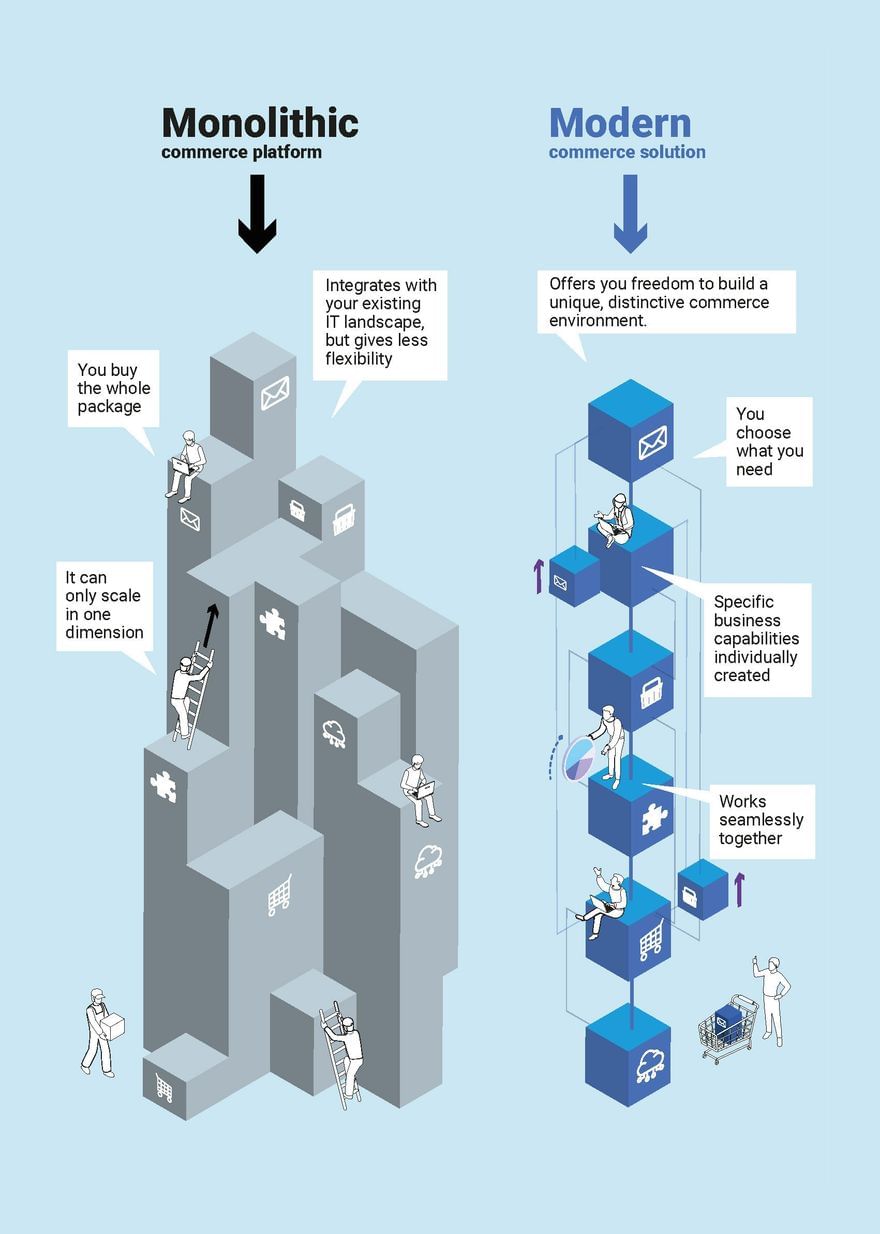 That's precisely what commercetools enables us to do. According to Forrester and Gartner, commercetools is a leader in commerce solutions that offers unlimited possibilities through far-reaching integrations with all possible eCommerce building blocks. Instead of installing a new full-service suite every five to 10 years, you continuously create the very best customized experience for your customers– with building blocks that you can easily replace so that you apply the best-of-breed solution in every area.
In this whitepaper, Product League provides a practical example of how to approach this transition towards a modern eCommerce platform. We take the example of a retailer transitioning from the platform Intershop to a composable landscape using OutSystems and commercetools. You will learn how to apply this transition safely, efficiently, and, above all, business-sensibly. Product League's experts share key points, considerations, and best practices necessary for a smooth transition from a practical perspective.
With Product League as your eCommerce implementation partner, you are assured of an approach to eCommerce that fits your company's needs. Recognizing the pain of the scaling online retail market, with feature development slowing down, and platform stability and performance struggling to keep up with demand, Product League offers flexibility as a solution. 

Through partnership and expertise, Product League helps you assess your now, your future, and the road there, using the power of our multi-disciplinary teams, state-of-the-art technology, and our extensive knowledge of the world of eCommerce. When you have established the company's vision, it can be accomplished together.

Product League is an Outsystems powerhouse, enhanced through partnerships with commercetools and Contentful. All the solutions in Product League's portfolio have modularity and scalability at their core. Together with your business, anything is possible: from made-to-measure solutions to full SaaS implementations. Helping you to reach your eCommerce business goals through the highest quality user experience. 
Want to learn more about what Product League can do for your business?
Get in touch