Good products deliver value. A lot of it. But how do you define and measure 'value'? Value can be expressed in different ways; Whether it's through increased revenue, time efficiency, or cost reduction. At Product League, we strive to deliver as much value as possible through the software products we develop. You present the challenge, Product League provides the solution.
Understanding the process of Product Development

The process begins with an analysis of the use case(s) shared. First off, we start by setting a clear vision and product goals. Then we ask ourselves the crucial question; What kind of value will the product bring to your organization when successfully implemented? Then a comprehensive breakdown structure will be compiled and based on analysis and estimations an impact-effort matrix can be composed to choose the best strategy for product development. Built according to the best agile practices, the product will be delivered in workable increments delivering value to our customers as soon as possible.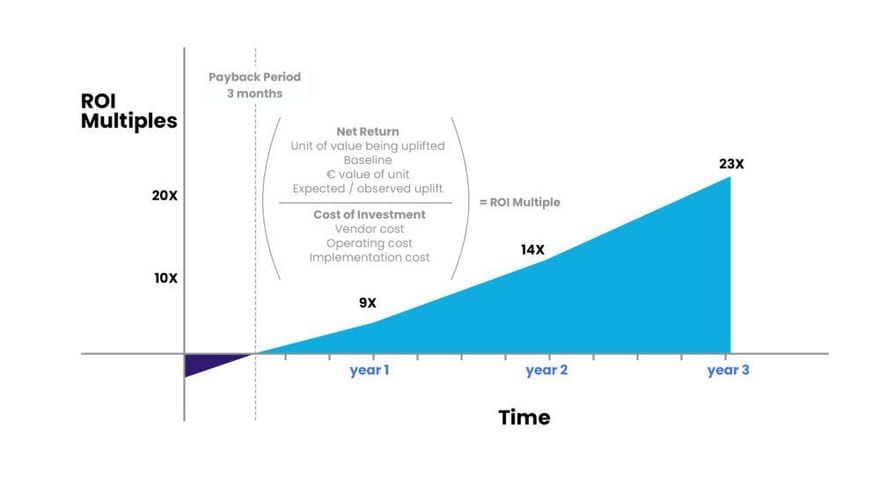 Unraveling the costs involved in Product Creation 
Building, operating, and improving products always require financial investment. A good product should always deliver more value than it costs. Product League stands by your side, assisting you in calculating the operational costs which include hosting, licensing, and service management expenses. Depending on the wishes of our clients, we either provide detailed project-based cost estimations or propose a digital factory contract allowing our clients to continuously build & improve their products in their own development environment.

Evaluating the Return on Investment
Are you making a good investment in your new products? Product League can help you calculate an ROI (Return On Investment) based on the following pillars:
The value proposition of the product
Operational expenditures
Project-related costs.
User satisfaction.
Ready to get in touch?
Business Value Assessment and Strategy
Do you already have a product, or a use case and you want to know first how much value it will deliver? Product League can offer an expert service to execute an assessment to review the value of products. Through product reviews, in-depth interviews, interactive workshops, and data-driven insights, we will calculate the potential value of a product. Get a detailed report of the current value of your product and the potential it still has. Once we understand the holistic product view a strategy can be chosen to suggest the best way forward to the future.